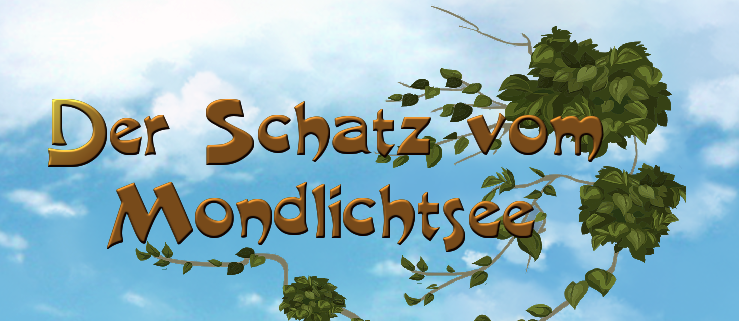 The treasure of the Moonlight Lake - Der Schatz vom Mondlichtsee
The treasure of the Moonlight Lake - Der Schatz vom Mondlichtsee
-
Story
Once upon a time, a magical sea cucumber with a fantastic hat fell into the world. Oh no, that was the other game.
Okay, let's start over.
200 years ago, a meteorite fell on the world and triggered the gift of magic in some people. Humanity split into three fractions. There was a battle over the meteor, from which the church emerged victorious and from then on imposed several rules on people how to use magic.
Today only the books tell about this long forgotten time. People have long since become accustomed to the control of the Church. Magic is no longer used.
Until young Harold finally finds an old treasure map and sets off on an adventure with his best friend Marsha. However, the mysterious treasure of the Moonlight Lake can not be found without some obstacles and puzzles. But what does it all have to do with the impact of the meteorite? Harold and Marsha eventually come across information that sheds new light on long-ago events.
Much of the background story can be found in the game in the books. To fully understand the story, you should not miss this!

Characters
Harold and Marsha
Two friends who grew up together in the peaceful village of Trisca.
Harold is a bit simple-minded and naive.
Marsha comes from a family that received the magical gift when the meteor struck.
But since the church of the traditionalists is in charge, magic was forbidden and only very few people are allowed to practice magic, and only on the instruction of the church.
Features
- a very deep background story; the game has its own world and a story of how it all came about
- tactically relatively demanding fights, turn-based
- every fight is evented, there are no random fights
- a few puzzles want to be solved
- an order book (Questlog)
- 25 achievements
- some puzzles and mini-games
- 47 books that can be collected with background story
- a few funny allusions and some humor in some places
- two different endings
- five different weapons: choose the weapon that best suits your playing style
- one or two secrets
- three different difficulties
This game was created within the "The forgotten heroes" competition (RTP only). Only the RTP (except the title screen) and plugins were allowed. This game is the winner of said contest.

-------------------------------------------------------------------------------------
Story
Einst fiel eine magische Seegurke mit einem fantastischen Hut auf die Welt. Ach nee, das war das andere Spiel.
Okay, nochmal von vorn.
Vor 200 Jahren fiel ein Meteorit auf die Welt und löste in einigen Menschen die Gabe der Magie aus. Die Menschheit spaltete sich in drei Fraktionen. Es kam zum Kampf um den Meteor, aus welchem die Kirche siegreich hervorging und fortan den Menschen etliche Regeln auferlegte, wie die Magie zu benutzen sei.
Heute erzählen nur noch die Bücher von dieser lang vergessenen Zeit. Die Menschen haben sich längst an die Kontrolle der Kirche gewöhnt. Die Magie wird nicht mehr eingesetzt.
Bis der junge Harold schließlich eine alte Schatzkarte findet und sich mit seiner besten Freundin Marsha auf ein Abenteuer begibt. Der geheimnisvolle Schatz vom Mondlichtsee lässt sich jedoch nicht ohne einige Hindernisse und Rätsel finden. Doch was hat das alles mit dem Einschlag des Meteoriten zu tun? Harold und Marsha stoßen schließlich auf Informationen, die auf lang vergangene Ereignisse ein neues Licht werfen.
Vieles von der Hintergrundgeschichte kann im Spiel in den Büchern gefunden werden. Um die Story komplett zu verstehen, sollte man sich das nicht entgehen lassen!
Charaktere
Harold und Marsha
Zwei Freunde, die zusammen in dem friedlichen Dorf Trisca aufgewachsen sind.
Harold ist etwas einfältig und naiv.
Marsha stammt aus einer Familie, die beim Einschlag des Meteors die magische Gabe erhielt.
Da aber die Kirche der Traditionellen das Sagen hat, wurde die Magie verboten und nur noch ganz wenige Menschen dürfen Magie ausüben, und das auch nur auf Anweisung der Kirche.
Features
- eine sehr tief gehende Hintergrundgeschichte; das Spiel hat seine eigene Welt und eine Geschichte, wie alles entstanden ist
- taktisch relativ anspruchsvolle Kämpfe, rundenbasiert
- jeder Kampf ist fix eventet, es gibt keine Zufallskämpfe
- ein paar Rätsel wollen gelöst werden
- ein Auftragsbuch (Questlog)
- 25 Errungenschaften
- ein paar Puzzle und Minispiele
- 47 Bücher, die eingesammelt werden können mit Hintergrundgeschichte
- ein paar lustige Anspielungen und auch sonst an einigen Ecken Humor
- zwei verschiedene Enden
- fünf verschiedene Waffen: Suche dir die Waffe aus, die am besten zu deinem Spielstil passt
- das ein oder andere Secret
- drei verschiedene Schwierigkeitsgrade
Dieses Spiel ist im Rahmen des "Die vergessenen Helden" Wettbewerbs (RTP only) entstanden. Erlaubt waren nur das RTP (mit Ausnahme des Titelbildschirms) sowie Plugins. Dieses Spiel ist der Gewinner des genannten Wettbewerbs.

| | |
| --- | --- |
| Updated | 28 days ago |
| Status | Released |
| Platforms | Windows, macOS, HTML5 |
| Rating | |
| Author | Zion |
| Genre | Role Playing |
| Made with | RPG Maker |
| Tags | 2D, Atmospheric, Fantasy, Multiple Endings, Pixel Art, RPG Maker, Singleplayer, Story Rich |
| Average session | A few hours |
| Languages | German, English |
| Inputs | Keyboard, Mouse, Xbox controller, Gamepad (any), Playstation controller |
Download
Click download now to get access to the following files:
The treasure of the Moonlight Lake 1.5 (RAR)
The treasure of the Moonlight Lake 1.5 (ZIP)
217 MB
The treasure of the Moonlight Lake 1.5 (MAC)
351 MB
Comments
Log in with itch.io to leave a comment.
Hello there, do you have english language version?
Yes of course! Thanks for asking.
Just download the game, it has an option for german or english. No different version needed, it's all in one. Have fun playing!
Mt 9, 13 & >Mt 12, 7< könnte implementiert werden;-)!
Ok, ich glaub, ich weiß was du meinst. Die Aussage ist natürlich richtig, passt aber leider hier nicht ins Spiel. Es ist gewollt, dass das schlechte Ende so endet ^^