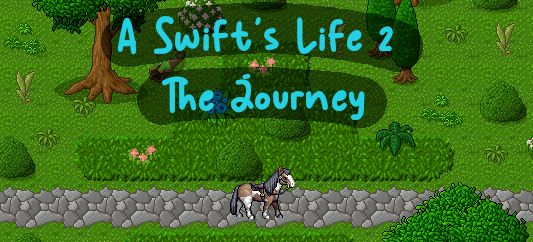 A Swift's Life 2 - The Journey
"The sleuth" update to 1.2
---
1.2 ENGLISH "The sleuth" update:
The dog Rudi has participated in a sniff training and can now smell even better than before.
As a result, the scent trails now give better rewards!
(Gameplay) Changed some scent trails so they are more important and give better rewards.
(Gameplay) Added another rock that must be moved in order to progress.
(Changes) Added new dialogs.
(Changes) In the area "The Path" the foreign animals must now first be questioned before the journey to Bremen can be continued.
(Changes) In the area "At the edge of the forest" you first have to look out to find the river again.
(Bug fix) The random little animals walking around can now no longer run around on obstacles.
(Internal) Changed the logo in the title screen.
-------------------------------------------------------------------------------------
1.2 DEUTSCH "Der Spürhund" Update:
Der Hund Rudi hat an einem Schnüffeltraining teilgenommen und kann jetzt noch besser riechen als vorher.
Als Resultat davon geben die Duftspuren nun bessere Belohnungen!
(Gameplay) Manche Duftspuren verändert, damit sie wichtiger sind und bessere Belohnungen geben.
(Gameplay) Einen weiteren Felsen eingefügt, der verschoben werden muss, um weiterzukommen.
(Veränderungen) Neue Dialoge hinzugefügt.
(Veränderungen) Im Areal "Der Weg" müssen nun zuerst die fremden Tiere befragt werden, bevor die Reise nach Bremen fortgesetzt werden kann.
(Veränderungen) Im Areal "Am Waldrand" muss erst Ausschau gehalten werden, um den Fluss wiederzufinden.
(Fehlerbehebung) Die zufällig herumlaufenden Tierchen können jetzt nicht mehr auf Hindernissen herumlaufen.
(Internes) Das Logo im Titelbildschirm verändert.
-------------------------------------------------------------------------------------
Files
The Journey 1.2 (RAR)
342 MB
Nov 21, 2021
The Journey 1.2 (ZIP)
355 MB
Nov 21, 2021
Get A Swift's Life 2 - The Journey